Liben Is Regular Supplier Of Trampoline And Soft Play Area For Go-Non Stop Fun In Saudi Arabia
Date:2023-10-28 02:38:41 Visit:117
Liben is regular supplier of trampoline and soft play area for Go-Non Stop Fun in Saudi Arabia.and this is one of the park project design.the park with total game area of 1600 square meters, and with many wonderful game area.
1. Free Jump Area:
The free jump area is a large open space where visitors can bounce, flip and jump to their heart's content. This area is perfect for practicing new skills or simply enjoying the thrill of bouncing around with friends.
Slope trampolines are another popular attraction in trampoline parks. These trampolines are inclined, providing visitors with an additional challenge and allowing them to perform more spectacular jumps and flips.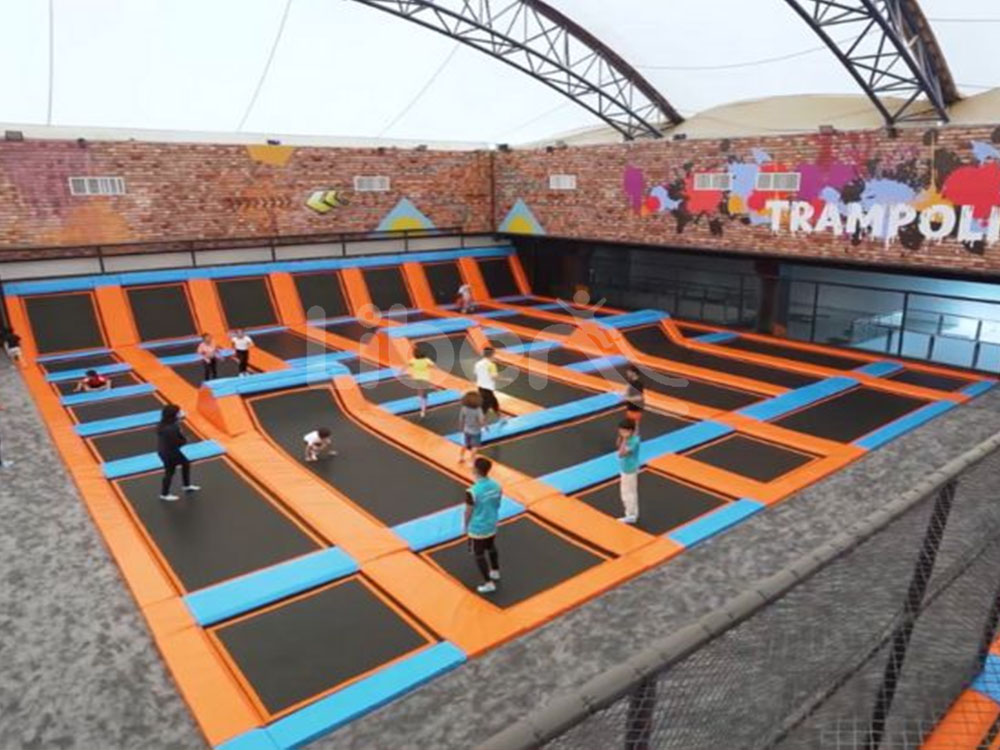 2. Climbing Area:
Climbing walls are already popular in many gyms and outdoor adventure parks, but combining this activity with trampolines adds a whole new level of excitement. The addition of an air bag not only adds safety to the experience, but also allows for more daring and adventurous climbing attempts.
Switching between bouncing on the trampolines and scaling the wall is a full body workout that challenges both physical and mental agility. It's a great way to increase strength, improve balance and coordination, and boost confidence.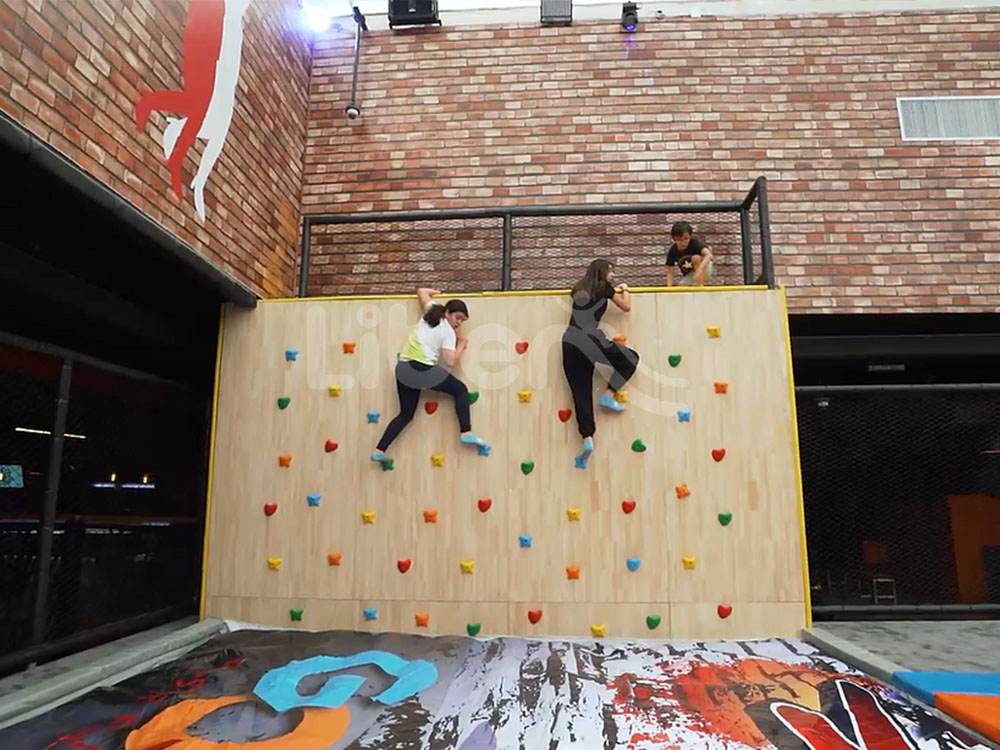 3. Olympic Trampoline Area:
For those who are looking to take their trampoline skills to the next level, the Olympic trampoline is the perfect option. These trampolines are larger and offer more bounce, allowing for more advanced acrobatic moves and tricks.
With wall to wall trampolines, you can jump, flip, and fly all across the park. It's a great way to release some energy and get some exercise at the same time.
4. Dodgeball Tennis Area
This dodgeball area also with tennis net, it's functional area.remove net, you can still play dodgeball.
Not only is trampoline park dodgeball with tennis balls a fun way to stay active, it also has a host of health benefits. Jumping on a trampoline is a low-impact exercise that can improve balance and coordination, while also helping to increase cardiovascular endurance. Playing dodgeball with tennis balls can also improve reaction time and hand-eye coordination, making it a great way to improve overall fitness and athleticism.
5. Functional Area
In below picture, there are different kind of games.
A. Spider Wall:
One of the most popular attractions in trampoline parks is the Spider Wall. This fun and challenging attraction tests your strength, balance, and agility as you climb up a wall covered in sticky pads.
B:Interactive Tap Fun:
The park provides a safe environment to bounce, jump, and flip, while the interactive tap feature adds an extra dimension of fun to the experience. The feature allows visitors to compete with each other in a friendly game, adding a healthy dose of competition to the mix.
C:Jump Box into Air Bag:
Trampoline Park has revolutionized the idea of indoor recreational activities by introducing the irresistible fun of jumping into an air bag. The Jump Box into Air Bag is the latest addition to the wide range of exciting activities in the park, and it is a unique experience that draws people of all ages.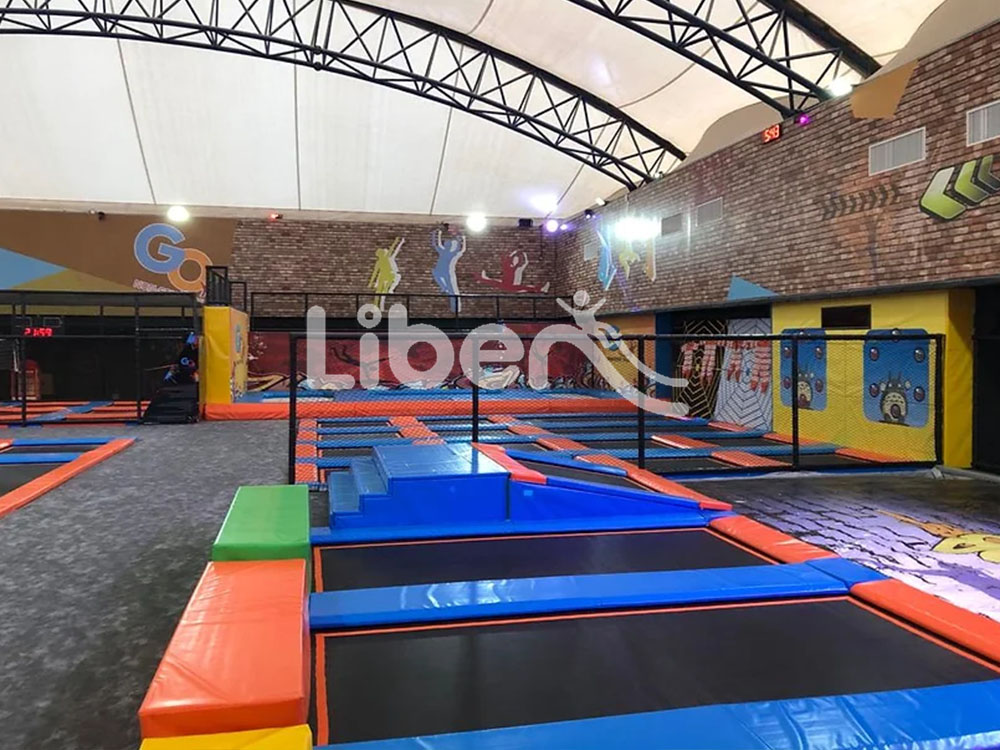 6. Soft Play Area
One of the biggest advantages of soft play areas is that they offer a range of activities that cater to different ages and abilities. For younger kids, there are colorful ball pits, mini slides, and soft foam blocks that stimulate their creativity and imagination. Older kids and teenagers can enjoy trampolines, obstacle courses, and gymnastics equipment that challenge their strength, agility, and coordination.
Keywords in this article: