LanBox Franchise Opportunities
Date:2023-10-09 01:06:43 Visit:159
LanBox Franchise Brand Introduction
Lan
B
ox
is the
franchise brand
of
Liben Group and
is well know
n
by the operational methods to
help franchisees run indoor trampoline park and family entertainment center business effectively and successfully.
"Lan": It is the blue in Chinese. And it is taken from the clear blue sky and the mysterious and profound sea, it represents a color of happiness, symbolizing freshness, lightness, simplicity, curiosity, bravery, and longing.
"Box" and logo: Box is mysterious, and no one knows what will be inside before opening it. Logo is a transformation from word "Fun". These two elements combine to symbolize a fun box that mean our brand aims to bring fun to all people.
The LanBox franchise model is very mature in China. Now we want to develop to be a global brand. Do not miss the chance and benefit from franchise opportunities in early period!

LanBox Franchise Investment and Return
Franchisees
success is critical to
franchise brand
, so we provide each
franchisee
with a personalized ROI analysis to determine the profit potential of their business. Even if you're new to the market, you don't have to invest on your own instincts. Instead, we're helping you make informed decisions based on facts and statistics.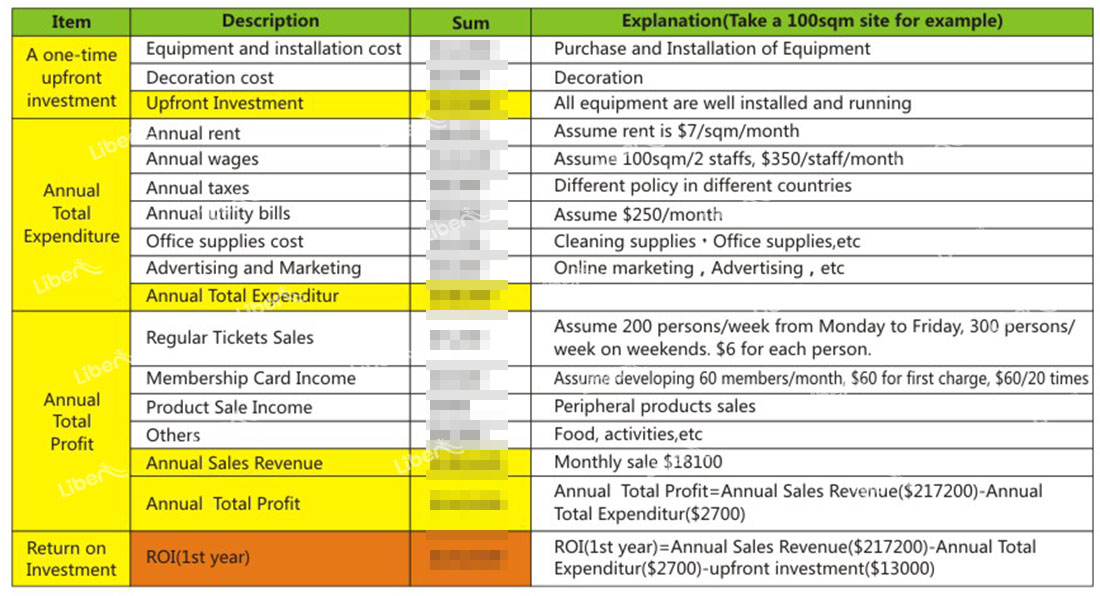 LanBox Franchise Service and Support
The franchise support is a crucial aspect of the franchise model, as it ensures consistency in operations, brand quality, and overall franchise system growth.
Here are some key elements of LanBox franchise service and support:
Brand Advertising
Focus on building and maintaining a consistent franchise brand message and visual identity across all franchise locations, we can promote the brand on major media platforms such as Youtube, Tiktok, Meta, Pinterest, etc. And also provide advertising strategies for franchisees to easily promote by themselves. Our videos total viewing volume is as high as 30 billion, and the exposure is among the top 1 in the same industry in China.
Brand Competition Protection
Protecting a franchise brand is crucial for maintaining consumer trust, market share, and long-term business success. So in a certain distance, we won't offer franchise service for others to ensure our franchisees to stay ahead.

Site Selection
We can assist franchisees in selecting suitable locations for franchise park by research and analysis. The analysis should include market research, location factors, zoning and regulation, competition and market saturation, risk assessment, cost analysis, etc.
Site Planning and Design
Once the franchisees share floor plan in CAD drawing, we can provide comprehensive customized site planning and design to ensure consistency with the franchise brand's image. We employs professional designers and engineers who consult with customers around the world to idea, design and refine visitor-pleasing and money-making trampoline parks that are shaping the future of amusement industry.

Production
and Procurement
We are not only manufacturer to produce trampoline park and playground, but also have established supply chain relationships to help franchisees source products and supplies at competitive prices. We can negotiate bulk purchasing deals and pass on the benefits to franchisees.
Shipping and Installation
If franchisees need shipping service, we have long term cooperation shipping forwarder to give cheaper price. And we also have professional, well-trained and experienced installation team built more than 1000 indoor trampoline parks and playgrounds around the world.

Operations Manuals
We create and provide franchisees detailed operations manuals that serves as a guidebook. It contains the standard operating procedures (SOPs), quality standards, policies, best practices, and other essential information for consistent operation across all franchise locations. These manuals serve as a reference guide for day-to-day operations.
Franchisee and Staff Training
We provide comprehensive initial and ongoing training programs to franchisees and their staff to ensure they understand the business model, operations, and standards. This training covers various aspects of operating the business, including product or service knowledge, sales and marketing techniques, customer service, administrative processes and financial management.

Franchisee Networking and Community
Franchisees often benefit from networking opportunities and a sense of community with other franchisees within the system. They can learn from the experiences of other franchisees and share best practices.
Ongoing Support
We provide ongoing support to franchisees through regular communication, field visits, performance evaluations and access to a support hotline or online portal for assistance with day-to-day challenges. This support can include help with event planning, operational challenges, troubleshooting, and guidance on adapting to changing market conditions.
LanBox Franchise Park Projects
Project is the best proof for LanBox franchise brand.
Following is the introduction on some franchise parks.


Keywords in this article: