Three Elements Of Choosing A Trampoline Park Site
Date:2023-08-01 10:48:02 Visit:190
With the rapid development of economy, people's disposable income continues to grow, and therefore they have more opportunities to pursue investment projects that can offer good rates of return. Trampoline halls have become one of the most favored investment choices in the market, and numerous people are ready to invest. Nonetheless, choosing a suitable location for a trampoline hall is far more important than one may realize. Here are three necessary steps to help you locate your trampoline hall.
1.The location of the trampoline hall
Before the location itself, one has to start with the requirements of the trampoline hall. Measuring the geographical location is crucial, and it's therefore recommended that the location is in a densely populated area. Shopping malls and community schools located centrally are great options. Moreover, the convenience of transportation has to be considered in order to provide easier playability for people that are far from the place. Additionally, the rent of the venue has to be considered as well since the price changes based on the type of location.
2.A bout the trampoline hall passenger flow
Considering the trampoline hall's passenger flow is essential. Knowing and following the flow of the potential customers is key to the profitability and profitability rates of the trampoline hall. The majority of customers tend to be young people and children, and it's not uncommon for the venue to attract stressed office workers that need to relax. Thus, an investigation into the local market to determine the gathering point of the local passenger flow is necessary, and also it's important to evaluate the potential customers.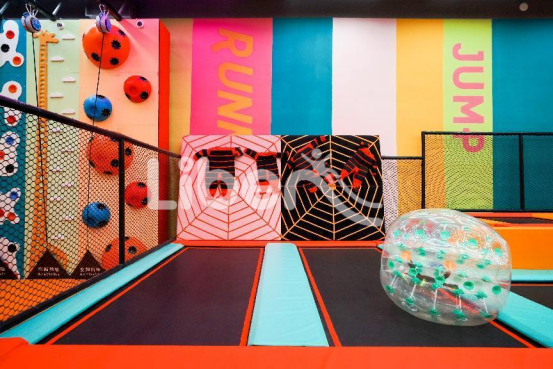 3. The trampoline venue area
Finally, the size of the location area for the trampoline hall is strictly regulated as well. It's advisable not to choose irregular shaped premises, and that rectangles are the preferred shape. The site is recommended to be above 5 meters to avoid having equipment restrictions. Good ventilation without the minimum amount of columns is the best scenario for customers. The site's area will depend on investors' targeted audiences, and if the focus is teenagers and children, it can be smaller. However, if it concerns a comprehensive venue, an area over 1,000 square meters is needed to ensure the equipment is rich and can cater to different people at the same time.
In conclusion, the trampoline hall site requirements mainly fall into the above three categories, along with meeting the local fire and health requirements